Roundup® For Lawns Bug Destroyer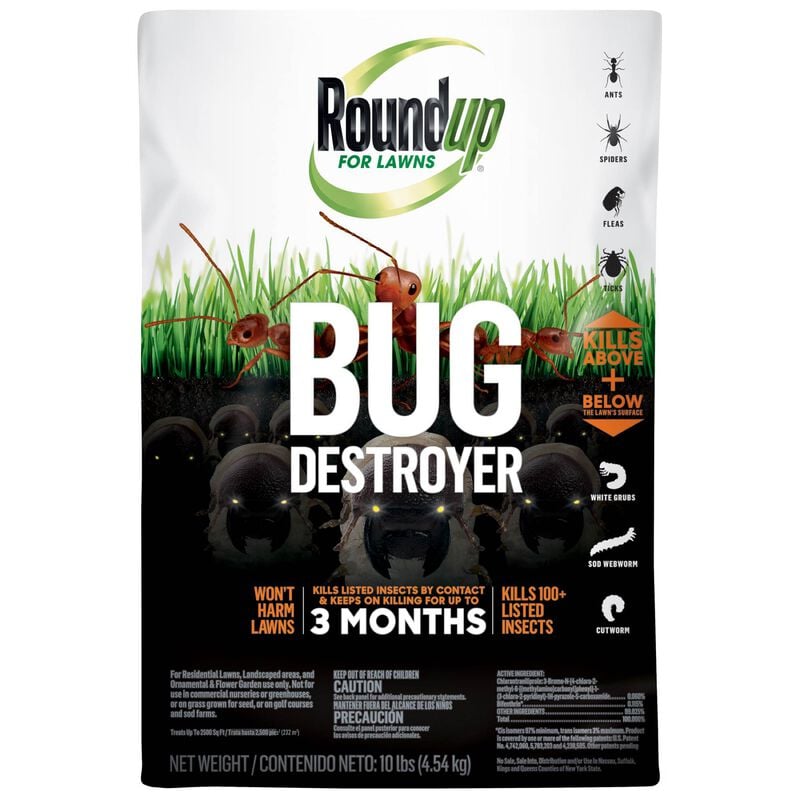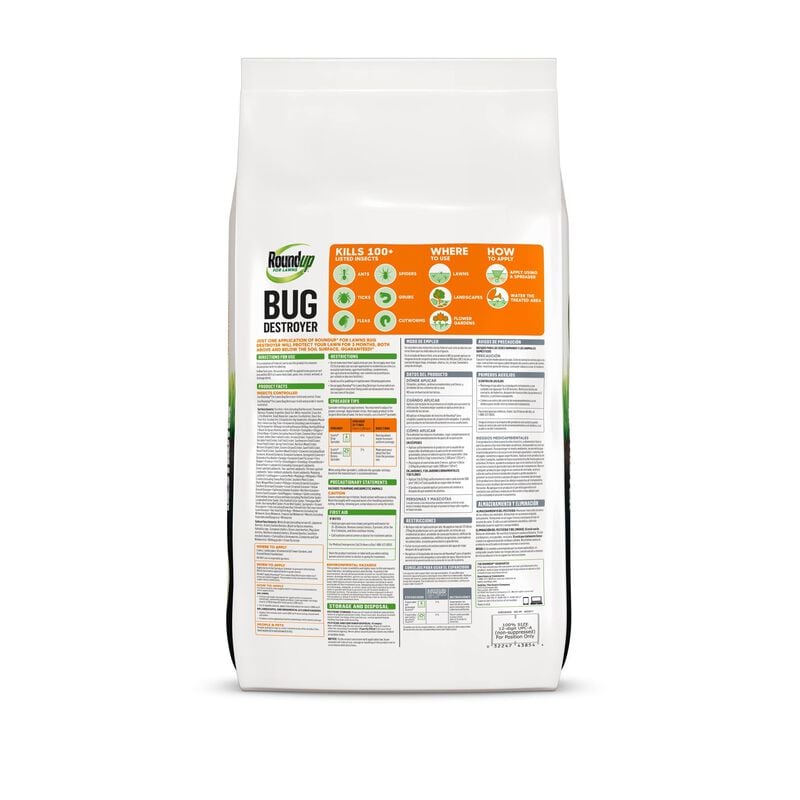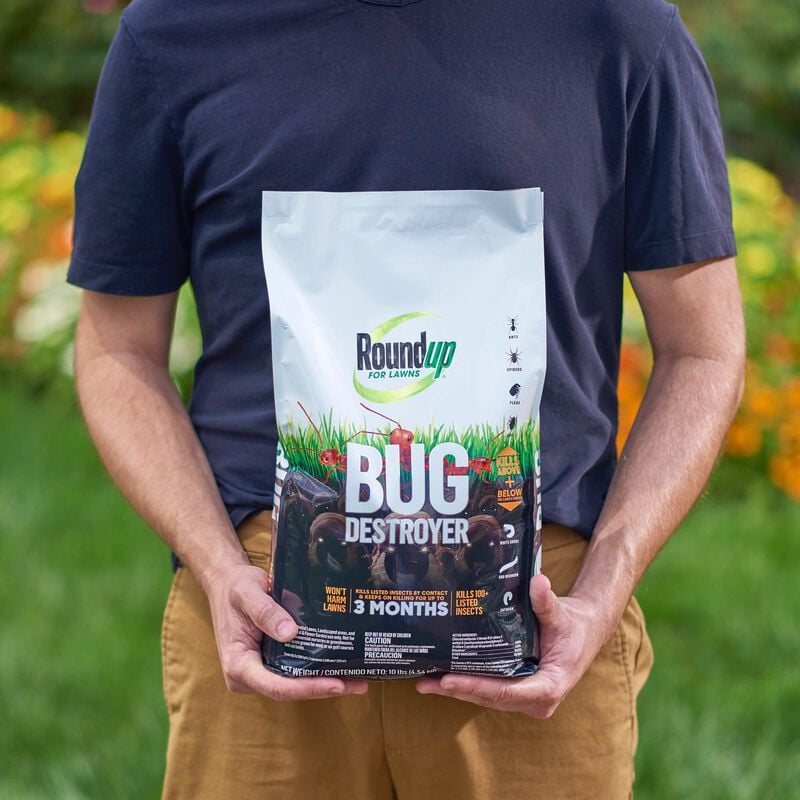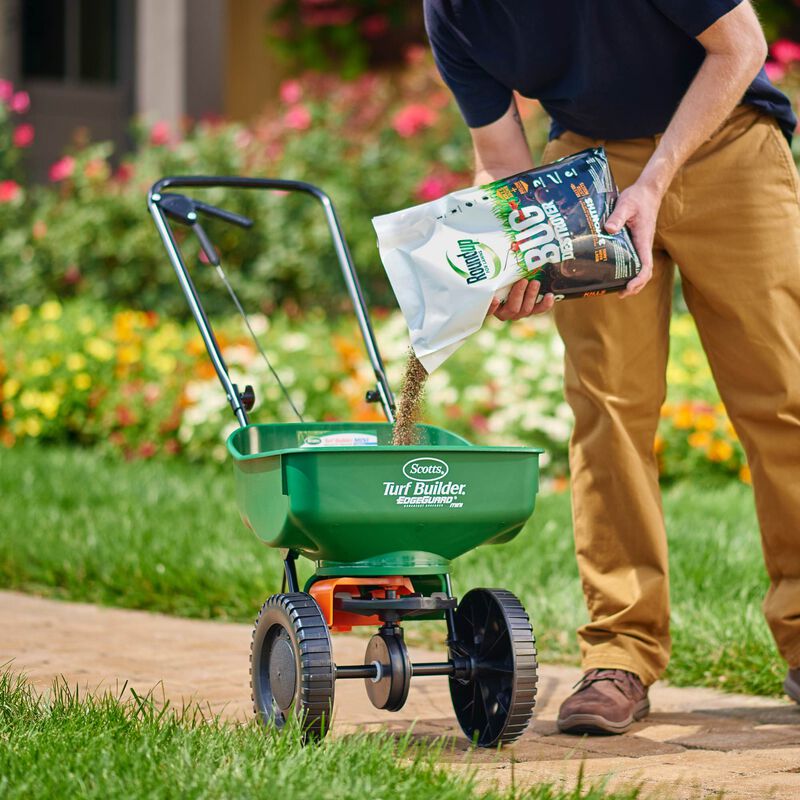 Roundup® For Lawns Bug Destroyer
Fall is in the air. Take 20% off your purchase of $49 or more 🍂
Overview
Kills 100+ listed insects by contact and keeps on killing for up to 3 months
Kills insects above and below the lawn's surface, including ants, spiders, fleas, ticks, white grubs, sod webworms and cutworms
For residential lawns, landscaped areas, and ornamental and flower garden use
Kills grubs
Won't harm lawns
Specs and Details
Active Ingredients
0.060% Chlorantraniliprole, 0.115% Bifenthrin
Cautions
Causes moderate eye irritation. Avoid contact with eyes or clothing.
Wash thoroughly with soap and water after handling and before eating, drinking, chewing gum, using tobacco or using the toilet.
Disposal Methods
PESTICIDE STORAGE:
Keep out of reach of children and animals.
Store in original containers only. Store in a cool, dry place to avoid excess heat.
For bags after partial use, reseal opened bag by folding top down and securing.
PESTICIDE AND CONTAINER DISPOSAL:
If empty: Non-refillable bag. Do not reuse or refill bag. Place in trash or offer for recycling if available.
If partly filled: Call your local solid waste agency. Never place unused product down any indoor or outdoor drain.
NOTICE: To the extent consistent with applicable law, buyer assumes all risks of use, storage or handling of this product not in accordance with directions.
Product Label
This is not the product label. Always read and follow the product label before use.
Safety Data Sheets can be found at scottsmsds.com
Description
Roundup® For Lawns Bug Destroyer is a dual-action formula that kills bugs above and below the lawn's surface. It kills 100+ listed insects, including ants, grubs, spiders, fleas, ticks, fire ants, sod webworms and cutworms. Plus, it keeps on killing for up to 3 months! Won't Harm Lawns. For residential lawns, landscaped areas, and ornamental and flower garden use. Treats up to 2,500 square feet. Say goodbye to those pesky lawn damaging bugs and get back to enjoying what's good.
*Consumer Guarantee: If for any reason you are not satisfied after using this product, simply send us original proof of purchase and we will refund the purchase price.
Step by Step Instructions
How to Use
For best results, thoroughly water treated area immediately after application.
ON LAWNS
Using a spreader designed for application of granular materials, uniformly apply product. A 10lb bag will treat up to 2500 sq ft.
For 3-month control, apply 4 lbs of product for every 1,000 sq ft.
ON LANDSCAPES, AND ORNAMENTAL AND FLOWER GARDENS
Apply 2lbs evenly over each 500 sq ft area using a hand held spreader. Repeat if there are signs of renewed insect activity.
Product can be applied just before planting or after plants emerge
When and Where to Use
Where Not to Use
DO NOT use in vegetable gardens
Where to Use
Lawns, Landscapes, Ornamental and Flower Gardens, and Around Home Foundations
When to Apply
Apply early in the Spring or Summer to prevent infestation. Works best when applied before grubs hatch.
DO NOT apply Roundup for Lawns Bug Destroyer when turf areas are waterlogged. The product may not work effectively under these conditions.
How Often to Apply
Do not exceed 1 applications per year.
Special Instructions
Watering Tips
For best results, thoroughly water treated area immediately after application.
Frequently Asked Questions
Our Guarantee
If for any reason you are not satisfied after using this product, simply send us original proof of purchase and we will refund the purchase price.
Bugs Controlled
Use Roundup® For Lawns Bug Destroyer to kill and control:
Use Roundup® For Lawns Bug Destroyer to kill and provide 3-month control of:
Surface Insects: Fire Ants • Ants (including Red Harvester, Pavement, Odorous, Pyramid, Argentine, Black Turf, White-footed Ant, Crazy Ant, Little Black Ant, Small Honey Ant, Lawn Ant, Cornfield Ant, Ghost Ant, Thief Ant, Acrobat Ant, Citronella Ant, Big-headed Ant, Allegheny Mound Ant) • American Dog Ticks • Armyworms (including Lawn Armyworm, Fall Armyworm) • Billbugs (including Bluegrass Billbug, Hunting Billbug) • Black Turfgrass Ataenius adults • Bristletail • Centipedes • Chiggers • Chinch Bugs • Crickets (including House Cricket, Common Short-tailed Cricket, Indies Short-tailed Cricket, Arizona Cricket, Tropical Cricket, Variable Field Cricket, Fall Field Cricket, Southeastern Field Cricket, Texas Field Cricket, Spring Field Cricket, Northern Wood Cricket, Western Striped Cricket, Eastern Striped Cricket, Sand Field Cricket, Vocal Field Cricket, Southern Wood Cricket) • Cutworms (including Black Cutworm, Bronzed Cutworm, Granulate Cutworm, Variegated Cutworm) • Dichondra Flea Beetle • Earwigs • European Crane Fly Larvae • Fiery Skipper • Firebrat • Frit Fly • Grasshoppers • Greenbug • Ground Beetle • Ground Pearl • Ladybeetles (including Convergent Ladybeetle, Seven-spotted Ladybeetle, Two- spotted Ladybeetle, Thirteen-spotted Ladybeetle, Twice-stabbed Ladybeetle, Asian Ladybeetle, Mealybug Ladybird) • Leafhoppers • Lucerne Moth • Mealybugs • Millipedes • Mole Crickets (including Tawny Mole Cricket, Southern Mole Cricket, Short-Winged Mole Cricket) • Pillbugs • Arizona Stripetail Scorpion • Southern Unstriped Scorpion • Lesser Stripetail Scorpion • Yellow Ground Scorpion • California Common Scorpion • Northern Scorpion • Eastern Sand Scorpion • Seed Maggots • Sowbugs • Spiders excluding black widow, brown recluse and hobo (including Marbled Cellar Spider, Longbodied Cellar Spider, Shortbodied Cellar Spider, Thinlegged Wolf Spider, Burrowing Wolf Spider, Pirate Wolf Spider), Springtails • Striped Grassworm • Ticks (including Brown Dog Tick and ticks that may transmit Lyme Disease) • Two-lined Spittle Bugs • Webworms (including Sod Webworm, Grass Webworm, Tropical Sod Webworm) • Weevils (including Hyperodes and Bluegrass) • Wireworms
Subsurface Insects: White Grubs (including larvae of): Japanese Beetles, Asiatic Garden Beetles, Black turfgrass ataenius, Aphodius spp., European chafers, Green June beetles, May/June beetles, Northern masked chafers, Oriental beetles, Southern masked chafers • Caterpillars (Armyworms, Cutworms and Sod Webworms) • Billbug grubs • Crane fly larvae
Kids & Pets
People and pets may re-enter treated areas after product has been watered in and allowed to dry.
Our Environment
This product is toxic to wildlife and highly toxic to fish and aquatic invertebrates, including oysters and shrimp.
To protect the environment, do not allow pesticide to enter or run off into storm drains, drainage ditches, gutters or surface waters.
Applying this product in calm weather when rain is not predicted for the next 24 hours will help to ensure that wind or rain does not blow or wash pesticide off the treatment area.
Sweeping any product that lands on a driveway, sidewalk, or street, back onto the treated area of the lawn or garden will help to prevent run off to water bodies or drainage systems.
This product is toxic to bees exposed to direct treatment or residues on blooming crops or weeds.
Do not apply this product or allow it to drift to blooming crops or weeds if bees are visiting the treatment area.
bvseo_sdk, dw_cartridge, 18.2.0, p_sdk_3.2.0
CLOUD, getReviews, 12ms
reviews, product
bvseo-msg: Unsuccessful GET. status = 'ERROR', msg = 'Not Found.'; Unsuccessful GET. status = 'ERROR', msg = 'Not Found.';