Roundup® Ready-To-Use Weed & Grass Killer III Wand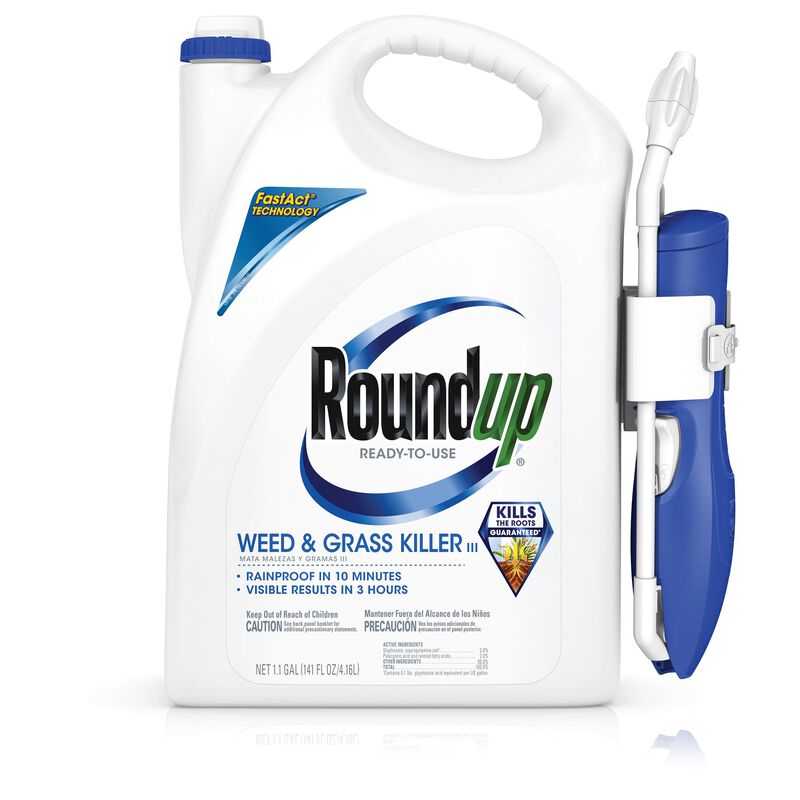 Roundup® Ready-To-Use Weed & Grass Killer III Wand
Product Applicator Type
X
---
Sure Shot Wand®
The protective shield of the Sure Shot Wand® helps contain spray, allowing you to treat weeds in garden beds and landscaped areas without harming the plants you love. Plus, the extra long wand lets you treat weeds with ease.
Comfort Wand®
The Comfort Wand® gives your hands a break with its one-touch precision wand.
Trigger Sprayer and Trigger Applicator
The Trigger Sprayer is all about ease of use.
Pump 'N Go® 2
The Pump 'N Go® 2 Sprayer provides up to 10 minutes of continuous spray and features an extendable wand for greater accuracy without bending over.
Concentrate
Mix the specified amount of product with water in a tank sprayer then spray uniformly as a spot treatment or for large areas.
Refill
The fast and easy way to refill your original container. Simply pour into your original empty container, remembering NOT to add water.
Overview
Kills the toughest weeds and grasses to the root. Guaranteed!* *Consumer Guarantee: If for any reason you are not satisfied after using this product, simply send us original proof of purchase and we will refund the purchase price.
Convenient, no-mix formula
Use in and around vegetable gardens, flower beds, tree rings and mulched beds, as well as on cracks in driveways, walkways and patios
Rainproof in 10 minutes
Visible results in 3 hours
Specs and Details
Active Ingredients
2% Glyphosate, 2% Pelargonic acid and related fatty acids
Cautions
Causes moderate eye irritation. Avoid contact with eyes or clothing. Wash thoroughly with soap and water after handling.
Disposal Methods
Refill this container according to the directions contained in the REFILL section on the label.
If Empty: Place in trash or offer for recycling if available.
If Partly Filled: Call your local solid waste agency for disposal instructions.
Never place unused product down any indoor or outdoor drain.
Product Label
This is not the product label. Always read and follow the product label before use.
Safety Data Sheets can be found at scottsmsds.com
Description
Kill the toughest weeds and grasses down to the root with Roundup® Ready-To-Use Weed & Grass Killer III! The formula is ideal for use in and around vegetable gardens, flower beds, tree rings and mulched beds, as well as on cracks in driveways, walkways and patios. This convenient, no-mix formula is rainproof in just 10 minutes—AND you get visible results in 3 hours. Kill weeds faster with Roundup®.
Step by Step Instructions
How to Use
Spray the weeds or grasses you want to kill until thoroughly wet. When spot-treating weeds in a flower garden, shield desirable plants from drift with a piece of cardboard or plastic. If a desirable plant is accidentally sprayed, rinse off immediately with water.
People and pets may enter treated areas after the spray has dried.
When and Where to Use
Where Not to Use
Do not spray plants or grasses that you like - they will die. Not recommended for spot weed control in lawns since glyphosate kills lawn grasses.
Where to Use
May be used on patios, walkways, driveways, gravel and mulch beds, around shrubs or trees, in flower beds, and along fences.
When to Apply
Apply when weeds are actively growing. Be sure to spray when the air is calm to prevent drift to desirable plants.
How Often to Apply
Whenever weeds are actively growing.
Frequently Asked Questions
Kids & Pets
People and pets may enter treated area after spray has dried. Glyphosate targets an enzyme found in plants but not people or pets.
Our Environment
To protect the environment, do not allow pesticide to enter or run off into storm drains, drainage ditches, gutters or surface waters. Applying this product when rain is not predicted for the next 24 hours will help to ensure that rain does not wash pesticide off the treatment area.